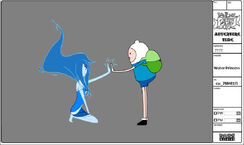 Water Princess is the princess of the Water Kingdom. She is the girl that replaced Flame Princess after Finn broke up with her. She seems to be exactly like Flame Princess, only she is blue and made out of water.
Biography
Edit
Water Princess was first introduced in the episode "Depths of Love" where Finn, Jake, BMO, and Princess Bubblegum were camping out in the mystery mountains. Finn was feeling depressed about his break up with Flame Princess again, and he went out into the lake of pure water alone to cry about it. Then, Water Princess rose from the lake to see what he was crying about. Finn told her about it and Water Princess told him "There's plenty of fish in the sea. There are also alot of water elementals too." This was when Finn and Water Princess first started officially dating each other and Finn didn't feel sad anymore. When Water Princess met the others, they all loved her and immediately became great friends with her. Water Princess has shown to have great abilities and powers and has been very useful around the camp site for them. She also managed to have caught on very quickly to everything that she was taught how to do, and she had mastered to very quickly. In fact, she even managed to do things better than she was taught how to. After a while, everyone had officially liked her better than Flame Princess and she completely replaced her.
In the episode "World of Water", Water Princess's perfections and Flame Princess replacment were still unchanged and raging on strong. Finn however, was still mindful about Flame Princess and how she was doing without him. Water Princess wanted to get his mind off of her by making their relationship more "deep" so she did alot of fun things with him and even took their relationship to Tier 2. After that, Finn had forgotten that Flame Princess even existed and Water Princess had dominated his love life.
Despite the way Water Princess had done all of these other good things for Finn, In the episode "Fear of Ocean" she appearantly still wasn't done yet and had made herself even more better and perfect for him. She tok him to the ocean and helped him overcome his fear of it as well as making him get so used to the ocean, that he was immune to drowning. It was this that made Finn obsessed with water and he spent endless time swimming, and having fun with Water Princess.
As of "Dripping Low", Water Princess and Finn were doing the same events that Finn did with Flame Princess only better. Finn used Flame Princess's home to make Water Princess's home and they brought their relationship up even higher the tier chart than Finn did with Flame Princess.
Appearance
Edit
Water Princess looks exactly like Flame Princess only she's blue and made out of water including some minor differences as well. Her hair is more wavy and moves with more of a slow and graceful motion that Flame Princess's wild and rapid movements, she wears a strapless dress with a white trim on the top and bottom, and she also wear a darker blue short skirt under her dress and she doesn't wear shoes.
Personality
Edit
Water Princess has many similarities as well as differences to Flame Princess's personality. Unlike Flame Princess, Water Princess seems to be a very calm girl and doesn't get mad at most things, and had a very timid and relaxed nature. Although, she seems to always be calm, Water Princess can also be a very exicatble and fun-loving girl when it comes to having fun and going on adventures. To Finn, she is described as "The perfect girl." and on multiple occasions has been said and shown to have been an exact replica and replacement of Flame Princess only better.
Episode Appearances
Edit
Major Roles
Edit
Depths of Love
World of Water
Fear of Ocean
Dripping Low
Aquatic Point
Water Powered
Ruins of Bones
Finn and Fish
Water Works
Conquering the Unconquerable
Surfing on Domination
Land of EEE
Deep in Thought
Perfect
Rise of Kee-Oth Part 2
Rise of Kee-Oth Part 3
Watery Love of Eternity
The Best
Fire & Water
Sisters
The Big Decision
Minor Roles
Edit
Royal Pain Toter
Goblin Betrayal
King Worm Returns
Burning Hatred
Suit of Ice
Rise of Kee-Oth Part 1 (Non-Speaking Cameo)
Many of the episodes she's appeared in have been mirrored versions of episodes with Finn and Flame Princess's relationship, such as "Dripping Low" mirroring "Burning Low", "Aquatic Point", mirroring "Ignition Point", and "Ruins of Bones", mirroring "Vault of Bones".
Attie's design is based of off Water Princess's.