---
The Adventure Time Fanfiction Wiki is the official collaborative database about fanfictions for Adventure Time. The wiki format allows anyone to create or edit most articles!




Note: This is a fanfiction wiki, so not everything on here may be canon. For canon information about the show, visit the official Adventure Time Wiki.
---
There are 250 articles since January 2014!

---
---
---
Poll
Which of these girls is Finn's soulmate?
Poll Results
---
Featured Article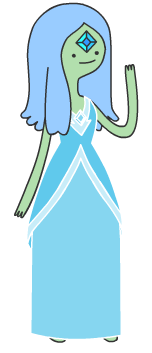 Attie
(full name: Attie Vorpine; formerly known as Lake Prince (when gender-swapped), Lake Princess, Atlantica Vorpine III (more recently), and, in the Wut-Wut High timeline, Addeline "Addie" Vorpine) is the former princess of the Lake Kingdom and is one of the main characters in CamDog and ACat's episodes of Adventure Time.
Attie was born as royalty, being forced to participate in royal affairs all her life. She never left the kingdom until she met Finn because she had no friends and therefore no reason to. She lived in the Lake Castle with her mother and father before moving in with Marceline. Her father denounced her royal status and title in "Kicked Out", also depriving her of her royal gems, contacts, dresses, and maid-servant.
Like most people residing in the Lake Kingdom, Attie has pale, turqiouse skin and blue, water-like hair. When she debuted, her hair was down to her waist. By "The Front Gates", it had reached her knees. In "Kicked Out" and "The Christmas Album", it was down to her ankles. She had it cut to shoulder-length in "Roommate". It had grown back to waist-length by "The Vampire King". She had it cut to shoulder-length again (though a slightly different style now) in "Call the Midwife". She is a little bit shorter than Finn. She used to have a royal blue gem, much like her fiery counterpart, in her forehead. She wore contacts until her father took them, and she now wears a pair of thick, black glasses. She wears a different outfit in every episode that she has a major role in and even for some of her minor roles. Her gender-swapped counterpart looks the same but with straight, shoulder-length hair, a blue outfit very similar to Prince Gumball's pink one (minus the crown), and a more masculine build. In the Wut-Wut High timeline, Addeline had dark hair and normal-colored skin.
---
If you are new to wikis, check the getting started information page.
Check out the community portal to see what the community is working on, to give feedback or just to say hi!
---
The Adventure Time Fanfiction wiki has officially been created.
---
Community content is available under
CC-BY-SA
unless otherwise noted.